Symptoms of perinatal depression
The symptoms of perinatal depression are reflected in the Edinburgh Postnatal Depression Scale (EPDS), which is used as a component of assessment for depressive symptoms.
Women who have symptoms of depression may experience:
low mood and/or feeling numb
loss of interest in things that would normally be enjoyable
feeling inadequate, like a failure, guilty, ashamed, worthless, hopeless, helpless, empty or sad
feeling unmotivated and unable to cope with the daily routine
insomnia or excessive sleep
often feeling close to tears
thoughts of self-harm or suicide.
There are also a range of different depressive symptoms that can be associated with other mental health conditions.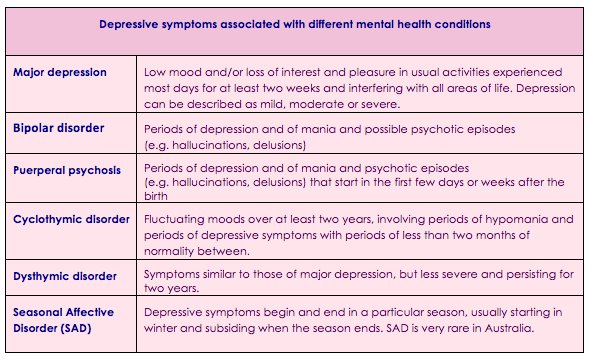 See also…
Assessing women for symptoms of perinatal depression
Management of  depression in the perinatal period
Things to remember about perinatal depression