Transition from 'Working Person' to 'Working Parent'
Posted by Nicole Highet on 20th March 2017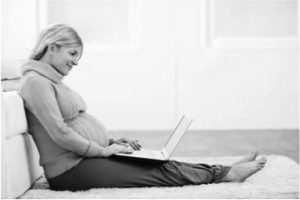 Becoming a parent is one of the most significant transitions a person will go through in their lifetime. Many adjustments have to be made, including the transition from 'working person' to 'working parent'.
Setting up a successful Parental Leave Transition
As a perinatal psychologist, who specialises in the emerging field of Parental Leave Support, I have observed the following patterns to setting up a successful transition:
Become Informed – Find out about your organisation's parental leave and flexible work policies – Ask don't assume! You may be surprised at how much support there is available in this area. The Australia Government also has a range of resources such as the 'Supporting Working Parents' website.
Start an Early and Ongoing Conversation with your Manager – Being able to communicate your news with your manager as early as possible provides an opportunity to set things up well for yourself, your colleagues and your clients. Working together, you can decide when to announce your news to the broader organisation and address any specific requirements you may have. The involvement of your HR representative can also be an important resource at this time.
Take Time to Prepare – We know that those people who develop an effective Leave Plan are more likely to return to work after having a child. In line with best practice it is important to consider how you will handover over your responsibilities, how you would like to stay connected to the organisation while on leave and how you will address the logistics of leave (e.g., have you considered how you would like to notify your team that your new child has arrived?).
Recognise the Opportunities – While it is important to recognise the challenges of leave, it is important to also recognise the many opportunities that this transition presents. In our work, we argue that parental leave is a company's most overlooked leadership development and human growth opportunity. For example, one question we often ask new parents is "What have you learned from work that you can bring to your role as a parent?" and "What have you learned from becoming a parent that you can bring back to work?"
For more detailed information regarding working through pregnancy please see here.
Dr Sarah Cotton
Dr Sarah Cotton is Co-Director of Transitioning Well, Organisational Psychologist and certified RETAIN Parental Leave Coach.