"Jumping out of an airplane at 15,000ft isn't nearly as scary as the grips of PND."
Posted by Ariane Beeston on 9th March 2023
Melbourne mum Alex thought postnatal depression meant you didn't love your baby, that you didn't feel any connection to them, or that you wanted to harm your child. But, as she soon discovered, the reality was very different.
"I was exhausted but couldn't sleep, my appetite had all but diminished, I was experiencing irrational rage and resentment towards my partner Dax who was going above and beyond," Alex says.
One night, at breaking point, she wandered the streets "braless, shoeless and phoneless."
"I just had to get out."
It wasn't until Alex completed an online checklist that the new mum of now five-month-old baby Daisy, realised she was suffering from PND.
"Once I came to this conclusion, I made the choice to 'own it' Alex says. "I take an antihistamine when I have allergies and I took insulin when I had gestational diabetes, so why suffer this unequipped?"
For Alex, a combination of medication, psychotherapy, regular appointments with her GP and "unwavering" support from her partner, family and her mother's group has helped her start to see the light at what she describes "the end of the dark tunnel."
"I'm by no means at the end of the journey," Alex says. "I still frequently have my bad days, but at least now I'm moving in the right direction and no longer feel as though I'm going through this alone."
Jumping for COPE
Alex and her partner Dax are preparing to skydive as part of the Centre of Perinatal Excellence (COPE)'s annual fundraiser – Jump for COPE.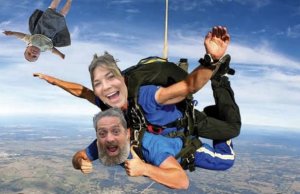 "Daisy will be six months a few days after our jump on 11 March. And we couldn't think of a better way to celebrate her half lap around the sun."
The event will see mums, dads, friends and family take to the sky at drop zones around the country in March and April.
"Jumping out of an airplane at 15,000ft isn't nearly as scary as the grips of PND without support," Alex says. "The money raised will make a difference by ensuring every expectant or new mother and father is provided access to a mental health screen, helping train already accredited mental health workers with perinatal expertise, and – most importantly of all – raising awareness.
"The more we talk about PND, and mental health in general, the quicker we can lower the stigma and help others experiencing what we have/are going through."
For Dax, the experience of supporting Alex through her recovery has given him a brand new perspective.
"As someone who works in the coaching and wellness industry, I feel equipped to support people through mental struggles," he says. "However, when it's someone so close to you, it's different. I've had to learn to not coach, be patient and allow Alex to feel safe in being vulnerable and let her know there is no judgement from me. "
Screening is crucial
COPE Founder and Executive Director Dr Nicole Highet says Alex's story highlights the importance of ensuring every expectant and new mother is offered screening to identify if she is at risk of, or experiencing a mental health condition.
"It also emphasises the importance of having access to timely, and relevant information throughout pregnancy and the first year of parenthood," Dr Highet says. "That's why we have developed the free, Ready to COPE app for mothers, fathers and non-birthing parents."
Ahead of her jump this weekend, Alex's message to new parents is one of hope. "You are not alone," she says. "Help and support is available."