iCOPE Digital Screening
iCOPE is designed to ensure every mother is provided with the right support for mental health during the perinatal period.
The digital platform screens for symptoms of depression and anxiety and assesses psychosocial risk factors. iCOPE ensures 100% accuracy in scoring, provides automated tailored clinician and patient reports and resources, and facilitates efficient, cost-effective and private screening.
Patients are more open to discussing mental health issues with iCOPE. It's an easy way to raise the subject. ⁠— Clinician.
Public Hospitals
COPE is leading the free delivery of the iCOPE app to all public hospitals and maternal child health clinics across the country as part of the Federal Government-funded Hospital to Home and Wellbeing Program. 
Public Hospitals – Enquire Now
The Private Healthcare Sector
iCOPE is available for purchase to private medical practitioners delivering perinatal care in all states and territories, including GPs, obstetricians, gynaecologists, IVF clinics and private maternity hospitals.

COPE has partnered with Diginostic, who are leading the iCOPE roll out to the private healthcare sector. Diginostic develops digital health-related applications for medical professionals and organisations committed to preventing illness and chronic disease.
Private Practices – Enquire Now
How does the platform work?
Patients respond to questions in the waiting room or during consultation on a tablet (for example an iPad). Scores are automatically calculated, interpreted and delivered as reports for both clinicians and patients. In addition to its clinical application, the iCOPE platform also facilitates the collection and collation of patient data for research purposes.
iCOPE looks more professional and feels more private for our patients. ⁠— Practice Manager.
iCOPE is a secure web-based platform accessed by providing health professionals with an individual login and password into the system. In consultation with the health practitioners and services, selected screening questions and questionnaires are available. 
In line with the National Perinatal Mental Health Guideline, the iCOPE platform currently contains questions pertaining to:
Psychosocial risk factors – using the Antenatal Risk Questionnaire (ANRQ)
Symptoms of depression and anxiety – using the Edinburgh Postnatal Depression Scale (EPDS).
In addition to the above, other questions or questionnaires can be included on the screening device to meet the needs of the population, service and/or specific area of research.
Since 2017 iCOPE now includes questions to ascertain if the client may be eligible for MBS items surrounding a Complex Birth (MBS Item 16552) as well as assess for the presence of symptoms and psychosocial risk factors, including drug and alcohol use and family violence, as required, to claim MBS Items 16590/16591 (antenatal) and Item 16407 (postnatal).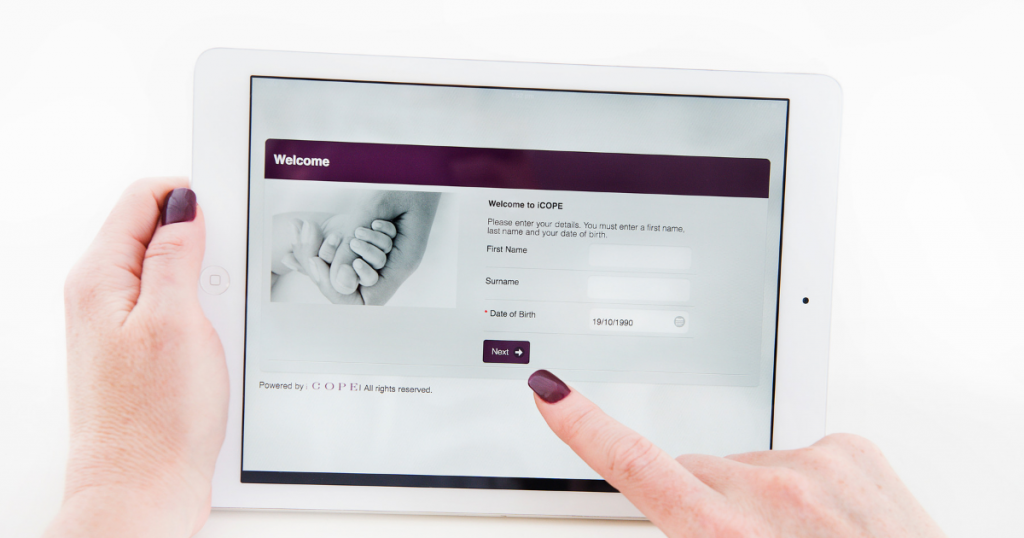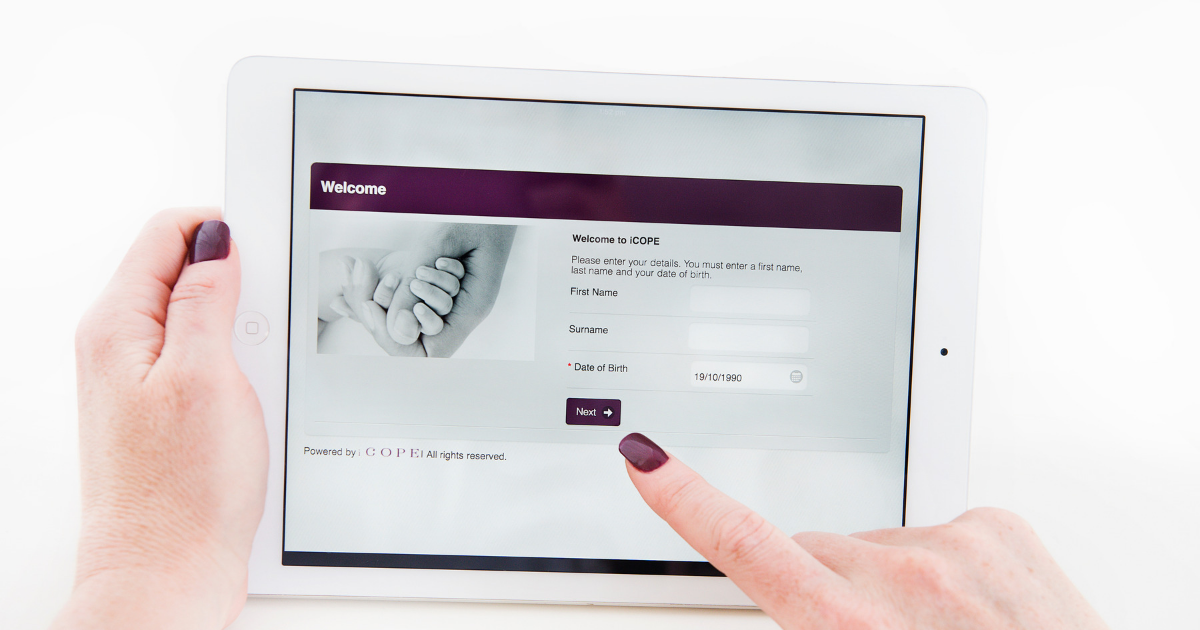 Key advantages of the iCOPE platform:
Embeds best practice by ensuring the consistent and accurate interpretation of clinical scales in accordance with clinical guidelines.
Saves time by enabling screening to be undertaken outside of the consultation.
Produces automated clinician reports containing summary score data.
Provides tailored reports for consumers via email or SMS.  These reports detail key personal risks and symptoms, as well as providing links to further information and support/treatment services.
Eliminates scorer error (100% accuracy).
Enables screening questions and patient reports to be translated and delivered in multiple languages (13 languages currently available).
Automates the collection of identified patient data to provide sites with summary data regarding patient profiles, clinical status, etc., to inform service needs.
Enables longitudinal collection of data so that patients can be monitored (and treatment outcomes assessed) over time.
Enables the collection of de-identified data to inform research, policy and service provision at a state/territory and national level.
Scoring and reporting
Summary scores and interpretations are calculated in real time and compiled into automated reports for both health professionals and patients/clients at the time of screening.
Clinical Reports
The clinical reports for health professions provide summary information about the identified risk factors and summary scores on the EPDS, together with clinical advice in accordance with Best Practice Guidelines.
The clinical reports are in PDF format, allowing them to be uploaded into the patient's medical records on other software systems (e.g. Genie, ObstetriX, Birthing outcomes system (BOS), Medical Director, Best Practice). This provides efficiency whilst ensuring compliance with the requirements of the Medicare Benefits Schedule (i.e. that results of the mental health assessment must be recorded in the patient's medical record).
Patient Reports
The individualised reports for patients/clients provide information about the person's identified risk factors and their likelihood of experiencing depression and/or anxiety.  In addition, links to specific pages of the COPE website are embedded to provide further information that specifically relate to identified risk factors or clinical symptoms. Data for patients can be sent to their personal email accounts or sent via SMS to their personal device.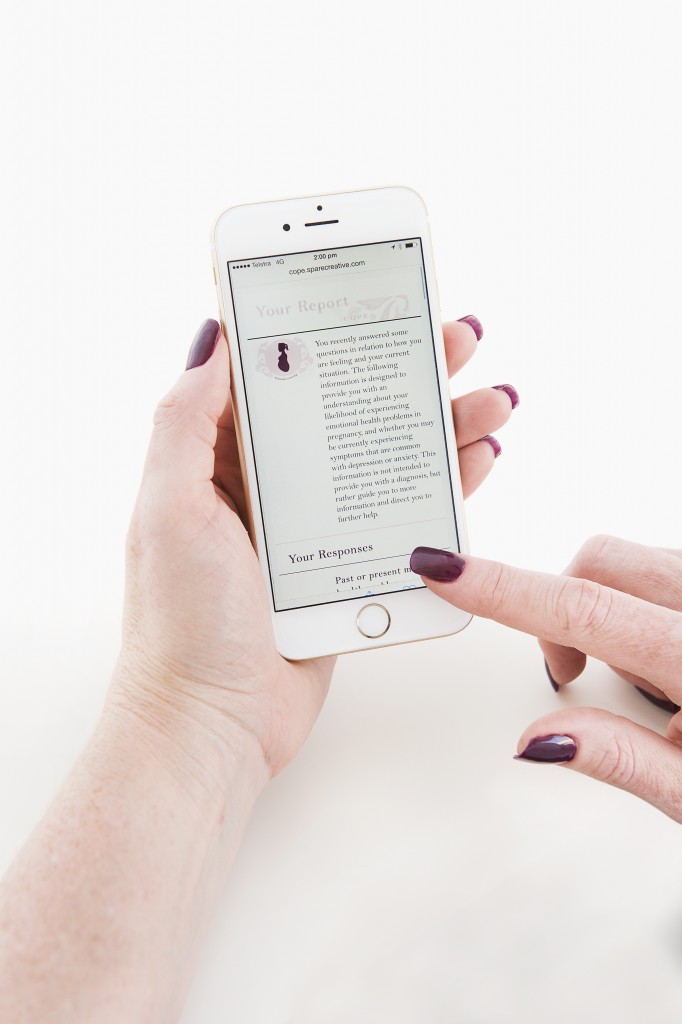 Data collection for reporting and monitoring treatment outcomes
The collection of data across sites enables summary data to be monitored and reported to inform service need.  In addition, patient data can be collected over time (longitudinal) to inform changes in clinical status (monitor progress/treatment outcomes).
Availability in other languages and cultural adaptions
The iCOPE Platform is currently available in twelve languages:
English
Arabic
Cantonese
Chin Hakka
Dari
Dinka
Mandarin
Persian/Farsi
Punjabi
Tamil
Turkish
Vietnamese
Find out more about how to screen in different languages here.
We are also currently investigating whether we are able to include screening tools developed for Aboriginal and Torres Strait Islander women on the iCOPE platform. Find out more information about this project.
What technology do I need for implementation?
The tablets need internet access, and although they can use Wi-Fi, it is advised that this is built into the tablet (via SIM card). This ensures screening occurs without interruption and the tablets can be used off-site as needed (e.g. on home visits).  
Tablets can be purchased or leased as part of the service, and, if deemed necessary, electronic tracking devices can be located on the tablet. In the event of theft, this enables the tablet device to be disabled immediately and tracked.
Tailoring across sites and services
The iCOPE platform can be tailored to reflect the branding and specific reporting needs across individual services.  This includes, for example, the inclusion of company branding on the screen.
Data collection and reporting
Data is collected and recorded automatically in real time. Data is securely stored using secure messaging.  This server-based approach protects sensitive data when sent beyond the corporate borders and provides compliance with industry regulations.
Each site has its own 'sandbox' of data, which is essentially all collected information in relation to patients screened within that service.  This data can be provided to clinicians to enable them to undertake their own analysis and research on their clinical/research populations.  In addition, there is also the option to have summary reports produced by COPE.
Why was iCOPE developed?
The platform was developed in response to the current recognised barriers to screening across services, together with the absence of data to inform the extent to which screening is undertaken and the outcomes of screening under Australia's National Perinatal Depression Initiative (NPDI).
Interested to know more?