Health Promotional Resources
COPE is committed to working with organisations and the community to raise awareness of the challenges that can occur on the journey to parenthood

Ready to COPE App
Poster Series
The Ready to COPE App is the perfect companion for all expectant and new parents.
The app provides women, men and non-birthing partners with weekly information to support and protect their emotional health and wellbeing throughout pregnancy, birth and the first year of parenthood.
The Ready to COPE Poster series has been designed for placement in maternity, postnatal and general practice settings to support expectant and new parents.
These can be ordered and installed at no cost.
Request Posters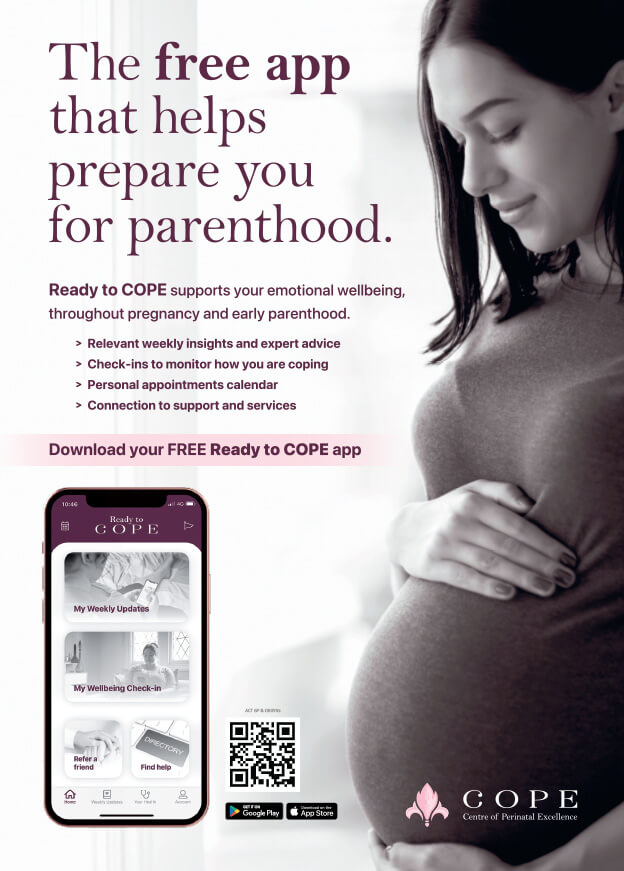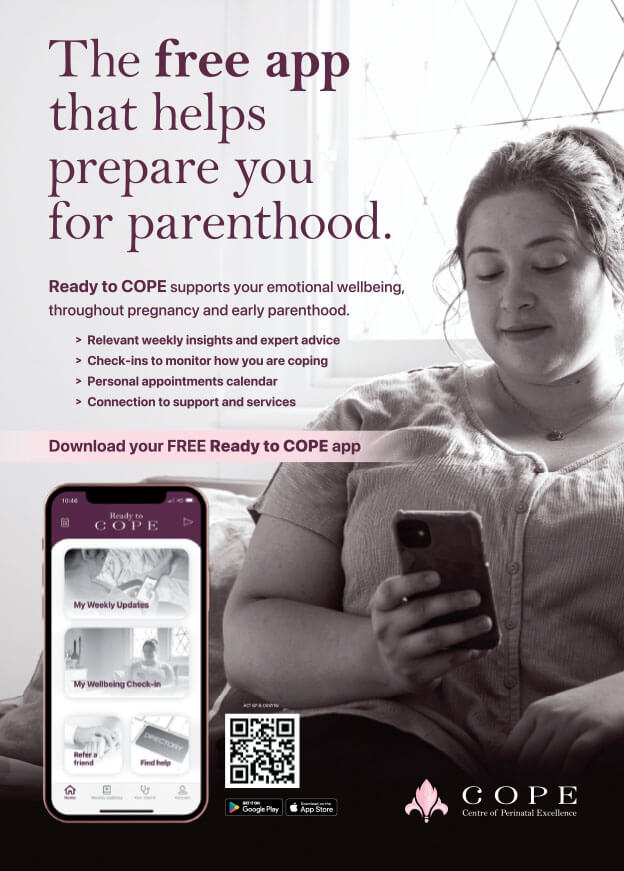 Video
The ready to COPE App video can be downloaded and played in waiting rooms to encourage expectant and new parents to download the free app and receive weekly information throughout their pregnancy and first year of parenthood.

[{"title":"Birth Trauma (Opt. 1)","image":"https:\/\/www.cope.org.au\/wp-content\/uploads\/2022\/11\/MAR0257_COPE_Poster_A4_V5-dragged-7.png","settings":[{"setting":"N\/A","states":[{"state":"All States\/Territories","variants":[{"pdf":"https:\/\/www.cope.org.au\/wp-content\/uploads\/2022\/11\/MAR0257_COPE_Poster_A3_V5-dragged-7.pdf","size":"A3"},{"pdf":"https:\/\/www.cope.org.au\/wp-content\/uploads\/2022\/11\/MAR0257_COPE_Poster_A4_V5-dragged-7.pdf","size":"A4"}]}]}]},{"title":"Birth Trauma (Opt. 2)","image":"https:\/\/www.cope.org.au\/wp-content\/uploads\/2022\/11\/MAR0257_COPE_Poster_A4_V5-dragged-8.jpg","settings":[{"setting":"N\/A","states":[{"state":"All States\/Territories","variants":[{"pdf":"https:\/\/www.cope.org.au\/wp-content\/uploads\/2022\/11\/MAR0257_COPE_Poster_A3_V5-dragged-8.pdf","size":"A3"},{"pdf":"https:\/\/www.cope.org.au\/wp-content\/uploads\/2022\/11\/MAR0257_COPE_Poster_A4_V5-dragged-8.pdf","size":"A4"}]}]}]},{"title":"Early Parenthood","image":"https:\/\/www.cope.org.au\/wp-content\/uploads\/2022\/11\/COPE_Truth_Campaign_Generic_Poster_A4_PRINT.jpg","settings":[{"setting":"N\/A","states":[{"state":"All States\/Territories","variants":[{"pdf":"https:\/\/www.cope.org.au\/wp-content\/uploads\/2022\/11\/COPE_Truth_Campaign_Generic_Poster_A3_PRINT.pdf","size":"A3"},{"pdf":"https:\/\/www.cope.org.au\/wp-content\/uploads\/2022\/11\/COPE_Truth_Campaign_Generic_Poster_A4_PRINT.pdf","size":"A4"}]}]}]},{"title":"Infertility (Opt. 1)","image":"https:\/\/www.cope.org.au\/wp-content\/uploads\/2022\/11\/MAR0257_COPE_Poster_A4_V4-dragged.jpg","settings":[{"setting":"N\/A","states":[{"state":"All States\/Territories","variants":[{"pdf":"https:\/\/www.cope.org.au\/wp-content\/uploads\/2022\/11\/MAR0257_COPE_Poster_A3_V4-dragged.pdf","size":"A3"},{"pdf":"https:\/\/www.cope.org.au\/wp-content\/uploads\/2022\/11\/MAR0257_COPE_Poster_A4_V4-dragged.pdf","size":"A4"}]}]}]},{"title":"Infertility (Opt. 2)","image":"https:\/\/www.cope.org.au\/wp-content\/uploads\/2022\/11\/MAR0257_COPE_Poster_A4_V4-dragged-2.jpg","settings":[{"setting":"N\/A","states":[{"state":"All States\/Territories","variants":[{"pdf":"https:\/\/www.cope.org.au\/wp-content\/uploads\/2022\/11\/MAR0257_COPE_Poster_A3_V4-dragged-2.pdf","size":"A3"},{"pdf":"https:\/\/www.cope.org.au\/wp-content\/uploads\/2022\/11\/MAR0257_COPE_Poster_A4_V4-dragged-2.pdf","size":"A4"}]}]}]},{"title":"Infertility (Opt. 3)","image":"https:\/\/www.cope.org.au\/wp-content\/uploads\/2022\/11\/MAR0257_COPE_Poster_A4_V4-dragged-3.jpg","settings":[{"setting":"N\/A","states":[{"state":"All States\/Territories","variants":[{"pdf":"https:\/\/www.cope.org.au\/wp-content\/uploads\/2022\/11\/MAR0257_COPE_Poster_A3_V4-dragged-3.pdf","size":"A3"},{"pdf":"https:\/\/www.cope.org.au\/wp-content\/uploads\/2022\/11\/MAR0257_COPE_Poster_A4_V4-dragged-3.pdf","size":"A4"}]}]}]},{"title":"Mental Health","image":"https:\/\/www.cope.org.au\/wp-content\/uploads\/2022\/11\/MAR0257_COPE_Poster_A4_V4-dragged-10.jpg","settings":[{"setting":"N\/A","states":[{"state":"All States\/Territories","variants":[{"pdf":"https:\/\/www.cope.org.au\/wp-content\/uploads\/2022\/11\/MAR0257_COPE_Poster_A3_V4-dragged-10.pdf","size":"A3"},{"pdf":"https:\/\/www.cope.org.au\/wp-content\/uploads\/2022\/11\/MAR0257_COPE_Poster_A4_V4-dragged-10.pdf","size":"A4"}]}]}]},{"title":"Pregnancy (Opt. 1)","image":"https:\/\/www.cope.org.au\/wp-content\/uploads\/2022\/11\/MAR0257_COPE_Poster_A4_V4-dragged-4.jpg","settings":[{"setting":"N\/A","states":[{"state":"All States\/Territories","variants":[{"pdf":"https:\/\/www.cope.org.au\/wp-content\/uploads\/2022\/11\/MAR0257_COPE_Poster_A3_V4-dragged-4.pdf","size":"A3"},{"pdf":"https:\/\/www.cope.org.au\/wp-content\/uploads\/2022\/11\/MAR0257_COPE_Poster_A4_V4-dragged-4.pdf","size":"A4"}]}]}]},{"title":"Pregnancy (Opt. 2)","image":"https:\/\/www.cope.org.au\/wp-content\/uploads\/2022\/11\/MAR0257_COPE_Poster_A4_V4-dragged-5.jpg","settings":[{"setting":"N\/A","states":[{"state":"All States\/Territories","variants":[{"pdf":"https:\/\/www.cope.org.au\/wp-content\/uploads\/2022\/11\/MAR0257_COPE_Poster_A3_V4-dragged-5.pdf","size":"A3"},{"pdf":"https:\/\/www.cope.org.au\/wp-content\/uploads\/2022\/11\/MAR0257_COPE_Poster_A4_V4-dragged-5.pdf","size":"A4"}]}]}]},{"title":"Pregnancy (Opt. 3)","image":"https:\/\/www.cope.org.au\/wp-content\/uploads\/2022\/11\/MAR0257_COPE_Poster_A4_V4-dragged-6.jpg","settings":[{"setting":"N\/A","states":[{"state":"All States\/Territories","variants":[{"pdf":"https:\/\/www.cope.org.au\/wp-content\/uploads\/2022\/11\/MAR0257_COPE_Poster_A3_V4-dragged-6.pdf","size":"A3"},{"pdf":"https:\/\/www.cope.org.au\/wp-content\/uploads\/2022\/11\/MAR0257_COPE_Poster_A4_V4-dragged-6.pdf","size":"A4"}]}]}]},{"title":"Ready to COPE (Opt. 1)","image":"https:\/\/www.cope.org.au\/wp-content\/uploads\/2022\/11\/1-ACT-GP-OBGYNs-COPE-A4-RTC.jpg","settings":[{"setting":"GP & OBGYN","states":[{"state":"ACT","variants":[{"pdf":"https:\/\/www.cope.org.au\/wp-content\/uploads\/2022\/11\/1-ACT-GP-OBGYNs-COPE-A3-RTC.pdf","size":"A3"},{"pdf":"https:\/\/www.cope.org.au\/wp-content\/uploads\/2022\/11\/1-ACT-GP-OBGYNs-COPE-A4-RTC.pdf","size":"A4"}]},{"state":"NSW","variants":[{"pdf":"https:\/\/www.cope.org.au\/wp-content\/uploads\/2022\/11\/1-NSW-GP-OBGYNs-COPE-A3-RTC.pdf","size":"A3"},{"pdf":"https:\/\/www.cope.org.au\/wp-content\/uploads\/2022\/11\/1-NSW-GP-OBGYNs-COPE-A4-RTC.pdf","size":"A4"}]},{"state":"NT","variants":[{"pdf":"https:\/\/www.cope.org.au\/wp-content\/uploads\/2022\/11\/1-NT-GP-OBGYNs-COPE-A3-RTC.pdf","size":"A3"},{"pdf":"https:\/\/www.cope.org.au\/wp-content\/uploads\/2022\/11\/1-NT-GP-OBGYNs-COPE-A4-RTC.pdf","size":"A4"}]},{"state":"QLD","variants":[{"pdf":"https:\/\/www.cope.org.au\/wp-content\/uploads\/2022\/11\/1-QLD-GP-OBGYNs-COPE-A3-RTC.pdf","size":"A3"},{"pdf":"https:\/\/www.cope.org.au\/wp-content\/uploads\/2022\/11\/1-QLD-GP-OBGYNs-COPE-A4-RTC.pdf","size":"A4"}]},{"state":"SA","variants":[{"pdf":"https:\/\/www.cope.org.au\/wp-content\/uploads\/2022\/11\/1-SA-GP-OBGYNs-COPE-A3-RTC.pdf","size":"A3"},{"pdf":"https:\/\/www.cope.org.au\/wp-content\/uploads\/2022\/11\/1-SA-GP-OBGYNs-COPE-A4-RTC.pdf","size":"A4"}]},{"state":"TAS","variants":[{"pdf":"https:\/\/www.cope.org.au\/wp-content\/uploads\/2022\/11\/1-TAS-GP-OBGYNs-COPE-A3-RTC.pdf","size":"A3"},{"pdf":"https:\/\/www.cope.org.au\/wp-content\/uploads\/2022\/11\/1-TAS-GP-OBGYNs-COPE-A4-RTC.pdf","size":"A4"}]},{"state":"VIC","variants":[{"pdf":"https:\/\/www.cope.org.au\/wp-content\/uploads\/2022\/11\/1-VIC-GP-OBGYNs-COPE-A3-RTC.pdf","size":"A3"},{"pdf":"https:\/\/www.cope.org.au\/wp-content\/uploads\/2022\/11\/1-VIC-GP-OBGYNs-COPE-A4-RTC.pdf","size":"A4"}]},{"state":"WA","variants":[{"pdf":"https:\/\/www.cope.org.au\/wp-content\/uploads\/2022\/11\/1-WA-GP-OBGYNs-COPE-A3-RTC.pdf","size":"A3"},{"pdf":"https:\/\/www.cope.org.au\/wp-content\/uploads\/2022\/11\/1-WA-GP-OBGYNs-COPE-A4-RTC.pdf","size":"A4"}]}]},{"setting":"Hospital","states":[{"state":"ACT","variants":[{"pdf":"https:\/\/www.cope.org.au\/wp-content\/uploads\/2022\/11\/1-ACT-Hospital-COPE-A3-RTC.pdf","size":"A3"},{"pdf":"https:\/\/www.cope.org.au\/wp-content\/uploads\/2022\/11\/1-ACT-Hospital-COPE-A4-RTC.pdf","size":"A4"}]},{"state":"NSW","variants":[{"pdf":"https:\/\/www.cope.org.au\/wp-content\/uploads\/2022\/11\/1-NSW-Hospital-COPE-A3-RTC.pdf","size":"A3"},{"pdf":"https:\/\/www.cope.org.au\/wp-content\/uploads\/2022\/11\/1-NSW-Hospital-COPE-A4-RTC.pdf","size":"A4"}]},{"state":"NT","variants":[{"pdf":"https:\/\/www.cope.org.au\/wp-content\/uploads\/2022\/11\/1-NT-Hospital-COPE-A3-RTC.pdf","size":"A3"},{"pdf":"https:\/\/www.cope.org.au\/wp-content\/uploads\/2022\/11\/1-NT-Hospital-COPE-A4-RTC.pdf","size":"A4"}]},{"state":"QLD","variants":[{"pdf":"https:\/\/www.cope.org.au\/wp-content\/uploads\/2022\/11\/1-QLD-Hospital-COPE-A3-RTC.pdf","size":"A3"},{"pdf":"https:\/\/www.cope.org.au\/wp-content\/uploads\/2022\/11\/1-QLD-Hospital-COPE-A4-RTC.pdf","size":"A4"}]},{"state":"SA","variants":[{"pdf":"https:\/\/www.cope.org.au\/wp-content\/uploads\/2022\/11\/1-SA-Hospital-COPE-A3-RTC.pdf","size":"A3"},{"pdf":"https:\/\/www.cope.org.au\/wp-content\/uploads\/2022\/11\/1-SA-Hospital-COPE-A4-RTC.pdf","size":"A4"}]},{"state":"TAS","variants":[{"pdf":"https:\/\/www.cope.org.au\/wp-content\/uploads\/2022\/11\/1-TAS-Hospital-COPE-A3-RTC.pdf","size":"A3"},{"pdf":"https:\/\/www.cope.org.au\/wp-content\/uploads\/2022\/11\/1-TAS-Hospital-COPE-A4-RTC.pdf","size":"A4"}]},{"state":"VIC","variants":[{"pdf":"https:\/\/www.cope.org.au\/wp-content\/uploads\/2022\/11\/1-VIC-Hospitals-COPE-A3-RTC.pdf","size":"A3"},{"pdf":"https:\/\/www.cope.org.au\/wp-content\/uploads\/2022\/11\/1-VIC-Hospitals-COPE-A4-RTC.pdf","size":"A4"}]},{"state":"WA","variants":[{"pdf":"https:\/\/www.cope.org.au\/wp-content\/uploads\/2022\/11\/1-WA-Hospital-COPE-A3-RTC.pdf","size":"A3"},{"pdf":"https:\/\/www.cope.org.au\/wp-content\/uploads\/2022\/11\/1-WA-Hospital-COPE-A4-RTC.pdf","size":"A4"}]}]},{"setting":"MCH","states":[{"state":"ACT","variants":[{"pdf":"https:\/\/www.cope.org.au\/wp-content\/uploads\/2022\/11\/1-ACT-MCH-COPE-A3-RTC.pdf","size":"A3"},{"pdf":"https:\/\/www.cope.org.au\/wp-content\/uploads\/2022\/11\/1-ACT-MCH-COPE-A4-RTC.pdf","size":"A4"}]},{"state":"NSW","variants":[{"pdf":"https:\/\/www.cope.org.au\/wp-content\/uploads\/2022\/11\/1-NSW-MCH-COPE-A3-RTC.pdf","size":"A3"},{"pdf":"https:\/\/www.cope.org.au\/wp-content\/uploads\/2022\/11\/1-NSW-MCH-COPE-A4-RTC.pdf","size":"A4"}]},{"state":"NT","variants":[{"pdf":"https:\/\/www.cope.org.au\/wp-content\/uploads\/2022\/11\/1-NT-MCH-COPE-A3-RTC.pdf","size":"A3"},{"pdf":"https:\/\/www.cope.org.au\/wp-content\/uploads\/2022\/11\/1-NT-MCH-COPE-A4-RTC.pdf","size":"A4"}]},{"state":"QLD","variants":[{"pdf":"https:\/\/www.cope.org.au\/wp-content\/uploads\/2022\/11\/1-QLD-MCH-COPE-A3-RTC.pdf","size":"A3"},{"pdf":"https:\/\/www.cope.org.au\/wp-content\/uploads\/2022\/11\/1-QLD-MCH-COPE-A4-RTC.pdf","size":"A4"}]},{"state":"SA","variants":[{"pdf":"https:\/\/www.cope.org.au\/wp-content\/uploads\/2022\/11\/1-SA-MCH-COPE-A3-RTC.pdf","size":"A3"},{"pdf":"https:\/\/www.cope.org.au\/wp-content\/uploads\/2022\/11\/1-SA-MCH-COPE-A4-RTC.pdf","size":"A4"}]},{"state":"TAS","variants":[{"pdf":"https:\/\/www.cope.org.au\/wp-content\/uploads\/2022\/11\/1-TAS-MCH-COPE-A3-RTC.pdf","size":"A3"},{"pdf":"https:\/\/www.cope.org.au\/wp-content\/uploads\/2022\/11\/1-TAS-MCH-COPE-A4-RTC.pdf","size":"A4"}]},{"state":"VIC","variants":[{"pdf":"https:\/\/www.cope.org.au\/wp-content\/uploads\/2022\/11\/1-VIC-MCH-COPE-A3-RTC.pdf","size":"A3"},{"pdf":"https:\/\/www.cope.org.au\/wp-content\/uploads\/2022\/11\/1-VIC-MCH-COPE-A4-RTC.pdf","size":"A4"}]},{"state":"WA","variants":[{"pdf":"https:\/\/www.cope.org.au\/wp-content\/uploads\/2022\/11\/1-WA-MCH-COPE-A3-RTC.pdf","size":"A3"},{"pdf":"https:\/\/www.cope.org.au\/wp-content\/uploads\/2022\/11\/1-WA-MCH-COPE-A4-RTC.pdf","size":"A4"}]}]}]},{"title":"Ready to COPE (Opt. 2)","image":"https:\/\/www.cope.org.au\/wp-content\/uploads\/2022\/11\/2-ACT-GP-OBGYNs-COPE-A4-RTC.jpg","settings":[{"setting":"GP & OBGYN","states":[{"state":"ACT","variants":[{"pdf":"https:\/\/www.cope.org.au\/wp-content\/uploads\/2022\/11\/2-ACT-GP-OBGYNs-COPE-A3-RTC.pdf","size":"A3"},{"pdf":"https:\/\/www.cope.org.au\/wp-content\/uploads\/2022\/11\/2-ACT-GP-OBGYNs-COPE-A4-RTC.pdf","size":"A4"}]},{"state":"NSW","variants":[{"pdf":"https:\/\/www.cope.org.au\/wp-content\/uploads\/2022\/11\/2-NSW-GP-OBGYNs-COPE-A3-RTC.pdf","size":"A3"},{"pdf":"https:\/\/www.cope.org.au\/wp-content\/uploads\/2022\/11\/2-NSW-GP-OBGYNs-COPE-A4-RTC.pdf","size":"A4"}]},{"state":"NT","variants":[{"pdf":"https:\/\/www.cope.org.au\/wp-content\/uploads\/2022\/11\/2-NT-GP-OBGYNs-COPE-A3-RTC.pdf","size":"A3"},{"pdf":"https:\/\/www.cope.org.au\/wp-content\/uploads\/2022\/11\/2-NT-GP-OBGYNs-COPE-A4-RTC.pdf","size":"A4"}]},{"state":"QLD","variants":[{"pdf":"https:\/\/www.cope.org.au\/wp-content\/uploads\/2022\/11\/2-QLD-GP-OBGYNs-COPE-A3-RTC.pdf","size":"A3"},{"pdf":"https:\/\/www.cope.org.au\/wp-content\/uploads\/2022\/11\/2-QLD-GP-OBGYNs-COPE-A4-RTC.pdf","size":"A4"}]},{"state":"SA","variants":[{"pdf":"https:\/\/www.cope.org.au\/wp-content\/uploads\/2022\/11\/2-SA-GP-OBGYNs-COPE-A3-RTC.pdf","size":"A3"},{"pdf":"https:\/\/www.cope.org.au\/wp-content\/uploads\/2022\/11\/2-SA-GP-OBGYNs-COPE-A4-RTC.pdf","size":"A4"}]},{"state":"TAS","variants":[{"pdf":"https:\/\/www.cope.org.au\/wp-content\/uploads\/2022\/11\/2-TAS-GP-OBGYNs-COPE-A3-RTC.pdf","size":"A3"},{"pdf":"https:\/\/www.cope.org.au\/wp-content\/uploads\/2022\/11\/2-TAS-GP-OBGYNs-COPE-A4-RTC.pdf","size":"A4"}]},{"state":"VIC","variants":[{"pdf":"https:\/\/www.cope.org.au\/wp-content\/uploads\/2022\/11\/2-VIC-GP-OBGYNs-COPE-A3-RTC.pdf","size":"A3"},{"pdf":"https:\/\/www.cope.org.au\/wp-content\/uploads\/2022\/11\/2-VIC-GP-OBGYNs-COPE-A4-RTC.pdf","size":"A4"}]},{"state":"WA","variants":[{"pdf":"https:\/\/www.cope.org.au\/wp-content\/uploads\/2022\/11\/2-WA-GP-OBGYNs-COPE-A3-RTC.pdf","size":"A3"},{"pdf":"https:\/\/www.cope.org.au\/wp-content\/uploads\/2022\/11\/2-WA-GP-OBGYNs-COPE-A4-RTC.pdf","size":"A4"}]}]},{"setting":"Hospital","states":[{"state":"ACT","variants":[{"pdf":"https:\/\/www.cope.org.au\/wp-content\/uploads\/2022\/11\/2-ACT-Hospital-COPE-A3-RTC.pdf","size":"A3"},{"pdf":"https:\/\/www.cope.org.au\/wp-content\/uploads\/2022\/11\/2-ACT-Hospital-COPE-A4-RTC.pdf","size":"A4"}]},{"state":"NSW","variants":[{"pdf":"https:\/\/www.cope.org.au\/wp-content\/uploads\/2022\/11\/2-NSW-Hospital-COPE-A3-RTC.pdf","size":"A3"},{"pdf":"https:\/\/www.cope.org.au\/wp-content\/uploads\/2022\/11\/2-NSW-Hospital-COPE-A4-RTC.pdf","size":"A4"}]},{"state":"NT","variants":[{"pdf":"https:\/\/www.cope.org.au\/wp-content\/uploads\/2022\/11\/2-NT-Hospital-COPE-A3-RTC.pdf","size":"A3"},{"pdf":"https:\/\/www.cope.org.au\/wp-content\/uploads\/2022\/11\/2-NT-Hospital-COPE-A4-RTC.pdf","size":"A4"}]},{"state":"QLD","variants":[{"pdf":"https:\/\/www.cope.org.au\/wp-content\/uploads\/2022\/11\/2-QLD-Hospital-COPE-A3-RTC.pdf","size":"A3"},{"pdf":"https:\/\/www.cope.org.au\/wp-content\/uploads\/2022\/11\/2-QLD-Hospital-COPE-A4-RTC.pdf","size":"A4"}]},{"state":"SA","variants":[{"pdf":"https:\/\/www.cope.org.au\/wp-content\/uploads\/2022\/11\/2-SA-Hospital-COPE-A3-RTC.pdf","size":"A3"},{"pdf":"https:\/\/www.cope.org.au\/wp-content\/uploads\/2022\/11\/2-SA-Hospital-COPE-A4-RTC.pdf","size":"A4"}]},{"state":"TAS","variants":[{"pdf":"https:\/\/www.cope.org.au\/wp-content\/uploads\/2022\/11\/2-TAS-Hospital-COPE-A3-RTC.pdf","size":"A3"},{"pdf":"https:\/\/www.cope.org.au\/wp-content\/uploads\/2022\/11\/2-TAS-Hospital-COPE-A4-RTC.pdf","size":"A4"}]},{"state":"VIC","variants":[{"pdf":"https:\/\/www.cope.org.au\/wp-content\/uploads\/2022\/11\/2-VIC-Hospitals-COPE-A3-RTC.pdf","size":"A3"},{"pdf":"https:\/\/www.cope.org.au\/wp-content\/uploads\/2022\/11\/2-VIC-Hospitals-COPE-A4-RTC.pdf","size":"A4"}]},{"state":"WA","variants":[{"pdf":"https:\/\/www.cope.org.au\/wp-content\/uploads\/2022\/11\/2-WA-Hospital-COPE-A3-RTC.pdf","size":"A3"},{"pdf":"https:\/\/www.cope.org.au\/wp-content\/uploads\/2022\/11\/2-WA-Hospital-COPE-A4-RTC.pdf","size":"A4"}]}]},{"setting":"MCH","states":[{"state":"ACT","variants":[{"pdf":"https:\/\/www.cope.org.au\/wp-content\/uploads\/2022\/11\/2-ACT-MCH-COPE-A3-RTC.pdf","size":"A3"},{"pdf":"https:\/\/www.cope.org.au\/wp-content\/uploads\/2022\/11\/2-ACT-MCH-COPE-A4-RTC.pdf","size":"A4"}]},{"state":"NSW","variants":[{"pdf":"https:\/\/www.cope.org.au\/wp-content\/uploads\/2022\/11\/2-NSW-MCH-COPE-A3-RTC.pdf","size":"A3"},{"pdf":"https:\/\/www.cope.org.au\/wp-content\/uploads\/2022\/11\/2-NSW-MCH-COPE-A4-RTC.pdf","size":"A4"}]},{"state":"NT","variants":[{"pdf":"https:\/\/www.cope.org.au\/wp-content\/uploads\/2022\/11\/2-NT-MCH-COPE-A3-RTC.pdf","size":"A3"},{"pdf":"https:\/\/www.cope.org.au\/wp-content\/uploads\/2022\/11\/2-NT-MCH-COPE-A4-RTC.pdf","size":"A4"}]},{"state":"QLD","variants":[{"pdf":"https:\/\/www.cope.org.au\/wp-content\/uploads\/2022\/11\/2-QLD-MCH-COPE-A3-RTC.pdf","size":"A3"},{"pdf":"https:\/\/www.cope.org.au\/wp-content\/uploads\/2022\/11\/2-QLD-MCH-COPE-A4-RTC.pdf","size":"A4"}]},{"state":"SA","variants":[{"pdf":"https:\/\/www.cope.org.au\/wp-content\/uploads\/2022\/11\/2-SA-MCH-COPE-A3-RTC.pdf","size":"A3"},{"pdf":"https:\/\/www.cope.org.au\/wp-content\/uploads\/2022\/11\/2-SA-MCH-COPE-A4-RTC.pdf","size":"A4"}]},{"state":"TAS","variants":[{"pdf":"https:\/\/www.cope.org.au\/wp-content\/uploads\/2022\/11\/2-TAS-MCH-COPE-A3-RTC.pdf","size":"A3"},{"pdf":"https:\/\/www.cope.org.au\/wp-content\/uploads\/2022\/11\/2-TAS-MCH-COPE-A4-RTC.pdf","size":"A4"}]},{"state":"VIC","variants":[{"pdf":"https:\/\/www.cope.org.au\/wp-content\/uploads\/2022\/11\/2-VIC-MCH-COPE-A3-RTC.pdf","size":"A3"},{"pdf":"https:\/\/www.cope.org.au\/wp-content\/uploads\/2022\/11\/2-VIC-MCH-COPE-A4-RTC.pdf","size":"A4"}]},{"state":"WA","variants":[{"pdf":"https:\/\/www.cope.org.au\/wp-content\/uploads\/2022\/11\/2-WA-MCH-COPE-A3-RTC.pdf","size":"A3"},{"pdf":"https:\/\/www.cope.org.au\/wp-content\/uploads\/2022\/11\/2-WA-MCH-COPE-A4-RTC.pdf","size":"A4"}]}]}]}]