'Mental illness does not discriminate' – Rebecca's Story
Posted by Ariane Beeston on 11th April 2022
Rebecca shares her story of perinatal mental illness and recovery as part of COPE's The Truth campaign.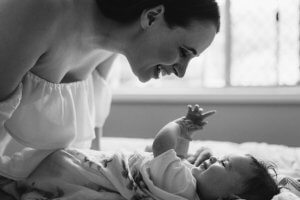 I experienced severe anxiety during my third trimester of pregnancy and then debilitating/acute anxiety 8 months ago when I gave birth to my son.
In addition to anxiety and high distress, I was diagnosed with severe depression and postpartum OCD, and was admitted to a mother-and-baby (MBU) psychiatric hospital in Sydney a week later
Learn more about postpartum OCD
 I'd previously experienced mild to moderate anxiety and depression from my mid-teens, and I was in contact with Gidget House psychologists throughout my pregnancy, so I thought I was doing everything 'right' and knew what to expect, however this experience took me by surprise.
Learn more about antenatal anxiety
Even though I had a lot of experience and knowledge about mental health, I assumed (wrongly) that a major depressive episode could not happen straight after birth and that mental illness would only develop much later in my postpartum journey if I lacked routine, support, or therapy etc. I learned the hard way how wrong I was and that in reality, mental illness does not discriminate.
Being admitted to the MBU hospital was the best decision I've ever made for myself, although admittedly at the time it felt like my biggest 'failure'.
It is because of this experience that I am starting a podcast to enable mothers to share their stories and lived experiences of mental illness during the perinatal period.