About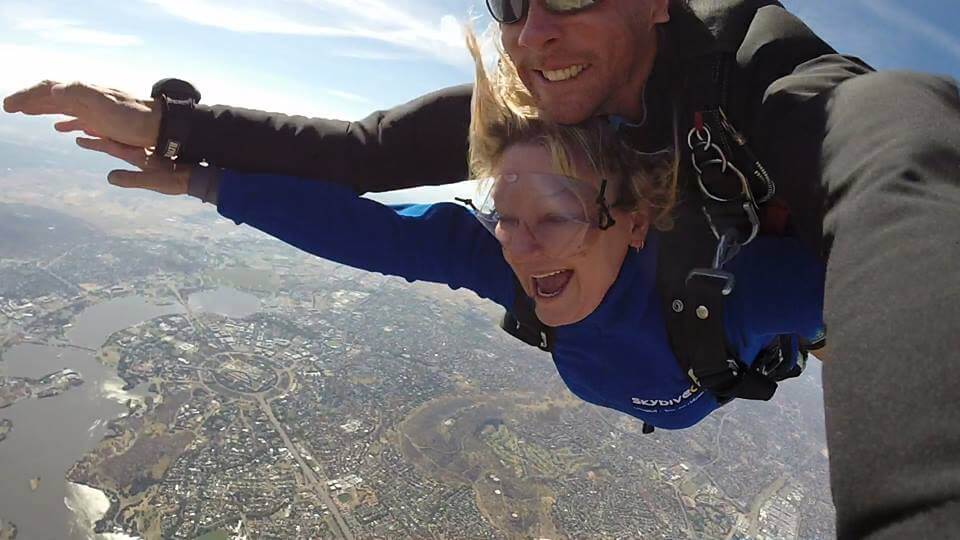 About Jump for COPE
 Jump for COPE is a community event that raises vital funds for COPE programs that are devoted to reducing the impacts of emotional and mental health problems in the pre and postnatal periods. 
How  to get registered and fundraising
Choose your Drop Zone from the

list of locations

. We have drop zones in every Capital (aside from the Northern Territory) as well as many beaches and country areas.

For those in Tasmania there is the option to Abseil.
Choose the date you can jump – preferably with others on the 11-12 of March 2023 but if not, choose any day in March or over easter and let us know which date you choose.

 

Register yourself for your skydive here, following the prompts. You will need to pay $100 to register yourself on the site. This is the only amount that you will pay – all else will be via fundraising (so it's the cheapest skydive you'll ever do!). 

Note:

You will need to fundraise the specified minimum amount per location (refer to location list here to be able to cover the costs of the skydive and the minimum donation to COPE).

Select your jump location according to the drop zones in the listing noting the target that must be reached for each location.

Download the promotional materials in the Resources section of the websites and see our tips on fundraising to help you on your way.

Promote, promote and promote again!
Once you have reached your target
When you reach your target COPE can book your jump.  COPE will book the Jump for you as we will be able to pay for the jump from your received registration and fundraising efforts. 
Get ready to take the leap for mums on your chosen date and enjoy knowing that every jump helps make a difference!
Worried you won't reach the fundraising target?
Where charity fundraising is concerned, up to 40% of the total money raised can go to expenses. As skydives are expensive (even at charity rate) we need to raise 60% on top of these jumps to fit within the requirements of fundraising. However, no need to worry because: 
These targets are extremely achievable (as has been proven over past jump years). People donate decent amounts when charity skydiving as it's such a huge feat, and

Even if you fall a little below, others will go over their targets and it all evens out in the end.

 
That said, if you are experiencing any difficulties reaching your target, contact us to discuss. 
Frequently Asked Questions (FAQ's)
I can't jump in the Jump for COPE month – can I jump on a different date?
Yes, you can but it needs to be as close as possible to the date. Try and book a week either side of the event, then let us know which date you have chosen.
What happens if the jump is postponed due to weather?
That's ok, your jump zone will let you know what date it is rescheduled for. The charity site we use keeps the site open after the Jump for COPE date.
Is it safe to skydive?
Tandem skydiving in Australia is very regulated and therefore one of the safest activities one can undertake. You are at much more risk in a motor vehicle than in an aircraft. Obviously there is always risk involved, as with any extreme activity, however, jump zones take every precaution necessary to limit accidents.
How does it all work on the day?
All drop zones operate differently, so contact them directly with your queries.
I want a video/pictures – how do I organise this?
Contact the drop zone directly and let them know and they will help you with this. We highly recommend getting a video. It can be pricey but it's so worth it to watch it back and play it for your family and kids. You will have the memory of the experience for life!
Any other questions?
Please email jumpforcope@cope.org.au
About Centre for Perinatal Excellence (COPE)
We are a not-for-profit organisation devoted to reducing the impacts of emotional and mental health problems in the pre and postnatal periods. 
You can help us make a difference by:
Ensuring every expectant or new mother and father is provided access to a mental health screen: Screening an expectant new mother or father provides them with an instant personalised report detailing their risk of developing a mental health problem and/or if they are experiencing symptoms of anxiety or depression and links them to further information around any issues that might be identified through the screening process and links them to referral pathways.
Ensuring expectant and new parents have relevant information and support at their fingertips via the Ready to COPE digital app: Enables expectant or new mothers and fathers to receive tailored information through their pregnancy and into the first year of parenthood via a digital app.
Training already accredited mental health workers with perinatal expertise: There is a desperate need to increase the capacity of the mental health workforce. Your funds help pay for mental health workers to have expertise in perinatal mental health.
Building Mama Tribe Communities to enable new Mums feel part of a network and ensure 'no mum is left behind.' Provides education around perinatal mental health first aid for ambassadors to identify mums who might be struggling in their local community and make sure they direct them to timely, appropriate pathways to care.
Thank you for being involved and taking the leap for Mums. We greatly appreciate community support and the generosity of individuals and organisations who participate in this event.