NEW Draft Perinatal Mental Health Guideline

Background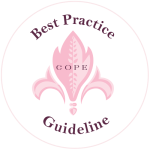 COPE: Centre of Perinatal Excellence has been commissioned by the Commonwealth Government of Australia to review and update the 2017 National Perinatal Mental Health Guideline (COPE, 2017).
An Expert Working Group (EWG), formed to develop the National Guideline, included representatives of the professional bodies in primary, maternity, postnatal and mental healthcare.  Consumers and carers are also represented.  The EWG was convened to guide and inform the development of the new Perinatal Guideline – Effective Mental Health Care in the Perinatal Period: Australian Clinical Practice Guideline.
Through the work of the EWG, together with a specialist Expert Subcommittee, the National Guideline has been drafted and, as part of the Guideline development process, is now available for review and feedback as part of our public consultation process.
Consultation period
The Draft Guideline will be put out for public consultation for a two-month Period (November 7, 2022 to January 7, 2023).  Whilst it is only a NHMRC requirement that the Guideline period is one month duration, this has been extended to provide opportunity for broad consultation.
The public consultation is now closed
How to review and provide feedback
We invite health professionals, consumer groups and individuals to provide feedback on the Draft Guideline through the consultation process. This can be achieved by following the three step process.
Step 1: Download Draft Guideline
You can download the draft Guideline via the button below.
Step 2: Provide feedback via designated feedback form
On review of the Draft Guideline content, we invite you to submit your feedback using the Guideline Feedback Form which you can access via the button below.
Technical Reports
If you wish to also access the technical reports that accompany the Draft Guideline, these can be found in the links below:
Technical Report Part A: Overall Approach for developing the Australian Perinatal Mental Health Guideline
Technical Report Part B: Psychosocial assessment and screening for depression and anxiety in the perinatal period
Technical Report Part C: Effectiveness of treatment and prevention interventions for depression and anxiety in the perinatal periods
Technical Report Part D: Harms associated with treatment and prevention interventions for mental health disorders in the perinatal period
Technical Report Part E: Treatment and prevention of mental health problems arising from traumatic birth experience
Step 3: Send in your feedback
Once you have completed your submission, please attach and send the completed form to the Guideline Expert Working Group via the button below.
What happens next?
On receipt of feedback from the above process, responses will be collated and reviewed by the Expert Working Group and relevant subcommittees.  Any changes deemed necessary by the Expert Working Committee or subcommittees the will be incorporated into the finalised Guideline which will be submitted to the NHMRC Council for approval at the March 2023 Meeting.
To be notified of progress and once the completed Guideline is available, sign-up to our health professionals register via the button below.
Further information?
If you have any further questions, please don't hesitate to contact the Guideline team at info@cope.org.au